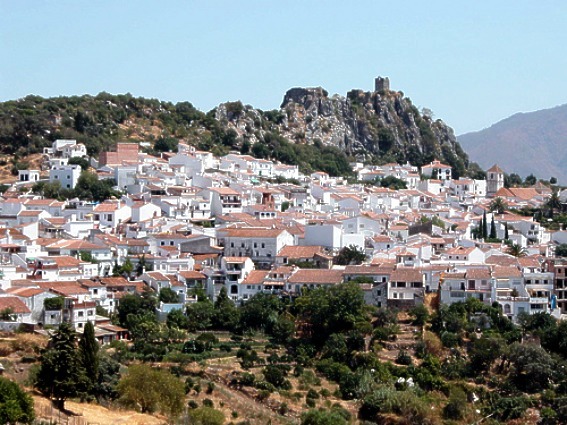 The " first village of the Serrania de Ronda region, the furthest South and known for it's stunning sea views and often referred to as the Balcón de la Serrania . From this white village you can see the the Crestellina mountain range, the Genal valley and the Mediterrnean sea.
Castillo del Águila has been one of the strategic defense points throughout the centuries, from Roman times to the French invasion or the Carlist Wars. This village is hugely popular as an enclave for create people, the annual Art Gaucin festival and many music events throughout the year bring in visitors from far and wide. Gastronimically it has some of the best restaurants' in the Serrania's . Property prices are generally higher in this village , the stagging views and the easy distance to the Coast being the attractions . ( Just 40 minutes to the Western Costa del Sol. Gaucín - Ayuntamiento de Gaucín (gaucin.es)
Population : 1,667 Malaga city & airport 153klm . 1hr 30mins Altitude above sea level 626m
CORTES DE LA FRONTERA
Sandwiched between the Alcornocales natural park and Sierra de Grazalema natural park in the far western reaches of Malaga province is the pueblo blanco (white town) of Cortes de la Frontera. It is in a superb vantage point overlooking the sweeping Guadiaro valley below, with a spectacular backdrop of the Serranía de Ronda mountains. Dominating the landscape around the town are extensive woods of cork trees (alcornocales) that stretch from the Guadiaro river westwards, to where the municipal boundary meets Cadiz province, and beyond. Cork has contributed greatly to the local economy since the late 17th century. Cortes used to be one of the richest pueblos blancos because of cork production and evidence of this wealth can still be seen today in the grand 18th-century mansions lining the main street. Covering over 170km², Cortes is one of the largest municipalities in Malaga province. The town has a population of around 4,500 and is located at 623m.
www.casadelrioretreat.com
Cafetería María y Méson Los Alcornocales | Cortes de la Frontera, Serrania de Ronda | Secret Serrania de Ronda
Jimera de Líbar is a pueblo blanco (white village) in the Guadiaro valley. Part of its territory belongs to Sierra de Grazalema Nature Park, a protected natural area and a Unesco Biosphere Reserve. The park lends the village some of its most beautiful landscapes and ideal spots for outdoor activities. The municipality comprises two population centres. The town itself is perched on the mountain slopes. And then there is the Barrio de la Estación (the railway station neighbourhood), 2km away, on the banks of the river Guadiaro. The Parish Church and Finca El Tesoro are the main attractions in this village in the region of Serranía de Ronda
Hotel Restaurant Inz-Almaraz Jimera de Líbar - Secret Serrania de Ronda
Venta La Oveja Negra - next to the municipal swimming pool